Checkout recording of "live web debate" at http://www.offstumped.in/live/
More info, below:
—–
"We are happy to organise a town hall with folks who have been actively trying to engage youth of India and making them more informed about the political process and choices to make.
The format of the debate would be 1 hour of panel discussion followed by half an hour of audience discussion and the last 30 minutes Q & A with the panelists.
All rules of civility expected. Please login with your twitter or facebook email ids to login to participate in the townhall.

*** Panelists ***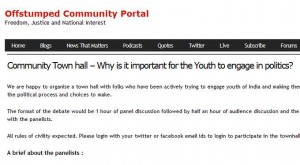 Dr. Akalpita Paranjpe
Dr Akalpita Paranjpe is a retired scientist from the BARC. She has a long record of community service and involvement. Her interest in politics grew out of her belief that the country was being run unprofessionally. In her own words, "We were going from a country run by freedom fighters and patriots to one where a majority of politicians were uneducated and corrupt people who had entered into politics to serve themselves, not the country." Inspired by Mahatma Gandhi, she decided to be the change she wanted in the country. A few years ago, she quit her job and decided to work full-time on the task of nation building. She is actively involved in Bharat Uday Mission.  More about her here.

Dipinder Sekhon
Dipinder Sekhon (30) is a member of The Freedom Team of India (http://freedomteam.in) – a platform for liberal political leaders committed to mass-scale reform in India's political and governance systems. A passout from the London School of Economics & Political Science (London, 2009), Sciences Po (Paris, 2009) and IIT (Delhi, 2002), Dipinder is an entrepreneur and works with his enterprise KritiKal Solutions in Noida. More about him here

Ashwin Kumar Kumaraswamy
Ashwin Kumaraswamy (29) is an eternal optimist, one who strongly believes that there is a need for a strong and efficient political leadership for India's future. He is currently working as a Technology Venture Capitalist in UK. He has been associated with Karnataka politics and has seen politics from very close quarters – cutting across party lines. He aspires to enter active electoral politics in the near future to serve the people of India and to shoulder the responsibility of providing an efficient and effective leadership for India in this 21st century. In his words "Politics is the defining purpose of his life and also a medium through which he can be the voice of the generation next of India". Ashwin shares his political thoughts and views on his blog and was till recently one of the moderators of Indian Politics community on social networking website – Orkut!
Amit Malviya
Amit is a management graduate and a career banker. Besides his professional commitments, his other interests include contemporary Indian and world politics. A proponent of ideology based governance; Amit spends time meeting and ideating with people from varied backgrounds. He is widely traveled both within India and globally, which has helped shape his views on various issues. Amit co founded Friends of BJP.
B Shantanu
A political activist by choice and an engineer by training, Shantanu Bhagwat (aka B Shantanu) is also a one-time diplomat and a venture investor. These days he divides his time between UK and India, working on raising political consciousness and improving political processes with a view to bring about systemic reform in India. A major part of his present activities relates to building networks and relationships across nascent political movements in India. In a career spanning two decades, Shantanu has worked across geographies and industries, including several years in Japan and in the UK. Until recently a Partner at a venture capital firm, he has also worked at Monitor Co. in London. Prior to that, spent several years in the Indian Foreign Service, working in New Delhi and Tokyo. He is the author/publisher of a popular blog on Indian politics, history and religion at Satyameva-Jayate.org More about his journey into political activism here.
27th March 2010, Saturday, 7pm IST
"